Drop by our Demo Stand in the hallway throughout the week to learn more about: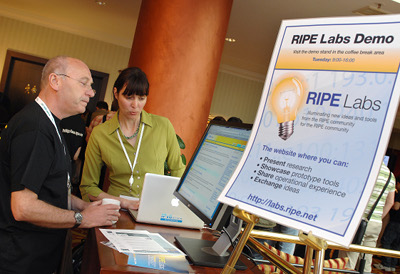 RIPEstat
The Information Services Department will be demonstrating RIPEstat and their suite of tools. If you have a suggestion for RIPEstat, you can submit it at the demo stand or email it to mat-wg [at] ripe [dot] net by the end of the day on Thursday. The person with the best idea (judged by the MAT Working Group Co-Chairs) will win an iPod Touch!
RIPE Atlas
The Science Group will demonstrate RIPE Atlas, the next generation active measurements network.
RIPE Labs
Get an overview of the latest projects and articles, and find out how you can participate.
Business Applications
The Business Applications Department will demonstrate the new LIR Portal, the LIR Locator and a prototype mobile application. You can also drop by to learn more about the RIPE NCC Certification software and get help certifying your resources in the LIR Portal, all you need is your administrator credentials to get started!