Daily Meeting Report
from Wednesday 4 May 2011
… Wednesday's weather 19°c and sunny … Take the IPv6 CPE Survey on RIPE Labs…
Wednesday Morning – From RIR Updates to IPv6 Whitelisting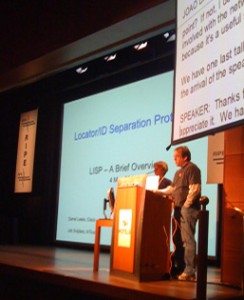 Wednesday morning started with the updates from the Regional Internet Registries (RIRs). The reports included recent news on IPv6 allocations and assignments assignments around the world, IPv6 policy development and returned IPv4 address space. There were also four lightning talks covering AAAA and IPv6 whitelisting, LISP, an Internet ethics survey and an open source implementation of the IEEE 802.1ag Ethernet OAM Protocol.
Fingerprinted at Tuesday Night's Key-signing Party
Sixteen people turned up for the key signing party last night, including 3 newcomers. A total of 19 fingerprints were verified. It was a great opportunity for people to meet each other and enabled the
party goers to exchange experiences.
DNS WG Session I – BIND 10 Live Demo, .uk DNSSEC and more
Wolfgang Nagele, RIPE NCC, started the session with a report on the RIPE NCC's DNS activities. Jim Reid, DNS Working Group co-Chair, asked if a process to better report validation errors to signers could be investigated. Wolfgang agreed that this would be a good idea and said the RIPE NCC could work together with the DNS Working Group and the RIPE community to improve the situation.
Peter Koch, DNS Working Group co-Chair, presented a short IETF report and Jakob Schylter, Kirei AB, gave a talk on OpenDNSSEC.
Shane Kerr, ISC, then presented the new BIND 10 in a live demo. The last two presentations were from Brett Carr, Nominet, about .uk DNSSEC deployment. Ondrej Sury, CZ.NIC, ended the session with a presentation on DNS Anomaly Detection. The second DNS session takes place today at 11:00.
First EIX WG Session Packed, Attendees Sing "Happy Birthday" to EURO-IX
EIX Working Group co-Chair Andy Davidson proposed that a /16 of the RIPE NCC's final /8 IPv4 address space be reserved for IXPs and many attendees supported the idea. Serge Radovic from EURO-IX led attendees in song to celebrate EURO-IX's tenth birthday, though sadly there was no cake. The EIX WG II session takes place Friday at 9:30 in the St. John's Room.
Routing Working Group Session – RPKI and BGPsec
The IPv6 Routing recommendations document is moving forward and there were no objections to the current text.
The attendees present urged the RIPE NCC to get the up/down part of the RPKI infrastructure completed. Alex Band, RIPE NCC Product Manager, expects that this will be completed very soon.
Randy Bush, IIJ, presented on the gory details of BGPsec. He also asked for an update to route-flap damping recommendations.
Cooperation Working Group – Neutrality and Law Enforcement
The Cooperation Working Group met after lunch, and kicked off with an extended discussion of Internet intermediaries and the competing interests of provider neutrality, law enforcement and business demands. The Group also heard updates on several relevant discussions taking place in the European Union, the UN CSTD Working Group on IGF improvement and the ICANN Government Advisory Committee.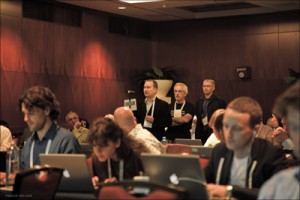 RIPE NCC Services Working Group
The RIPE NCC Services Working Group included presentations from the RIPE NCC Senior Management team covering new services, such as RIPE Atlas and RIPEstat, as well as the upcoming RIPE NCC Member and Stakeholder survey, which will be open from 6 May – 10 June 2011.
Daniel Karrenberg, RIPE NCC, noted that RIPE Atlas now has around 350 working probes (see atlas.ripe.net) and that the beta version of RIPEstat (stat.ripe.net) is now available. Andrew de la Haye, RIPE NCC, noted that the RIPE NCC will provide a platform for members who wish to transfer address space. He also discussed membership geolocation services.
There was discussion on the RIPE NCC's certification system and the roadmap presented by Alex Band, RIPE NCC, in his certification update and Athina Fragkouli's, RIPE NCC, Update on RIPE NCC Governance documents and the transfer document. There was also a presentation by Keith Mitchell about the RIPE NCC Arbiters.
413

attendees checked in so far
---

use #RIPE62
---
RIPE NCC Demos
In the hallway, all week
RIPEstat: The Information Services department will be demonstrating RIPEstat and their suite of tools.
RIPE Atlas: The Science Group will demonstrate RIPE Atlas, the next generation active measurements network.
RIPE Labs: Get an overview of the latest projects and articles, and find out how you can participate.
Business Applications: The Business Applications Department will demonstrate the new LIR Portal, including how to certify your resources, the LIR Locator and more!
---
The RIPE NCC Services Centre
Volmer I Room
Monday: 10:00-18:00
Tuesday: 09:00-18:00
Wednesday: 09:00-18:00
Thursday: 09:00-18:00
Friday: 09:00-13:00
Drop by to speak with a RIPE NCC IP Resources Analyst or Customer Services Representative