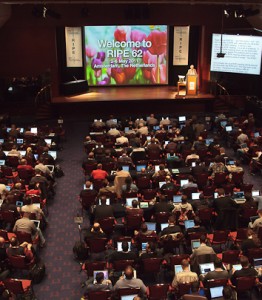 Monday: RIPE 62 Gets Underway
The first Plenary session of the day opened with a report from the RIPE Meeting Task Force. Andy Davidson, representing the task force, introduced the RIPE Programme Committee proposal that would ensure that Plenary, tutorial and BoF content is in tune with attendees' needs by creating a committee with representatives from the RIPE community, the working group chairs, the Middle East Network Operators Group (MENOG), the Eurasia Network Operators Group (ENOG) and co-opted members. There was a lot of support for the idea and some lively discussion on it.
RIPE NCC Membership and Stakeholder Survey 2011
Paul Rendek, RIPE NCC, and Desiree Miloshevic, Oxford Internet Institute, gave an overview of the RIPE NCC Membership and Stakeholder Survey 2011 and encouraged all stakeholders to participate. The survey will be launched on Friday, 6 May and will be available until 10 June. There are five iPads to be won by those who complete the survey. Look out for the url to the survey in your inbox!
Plenary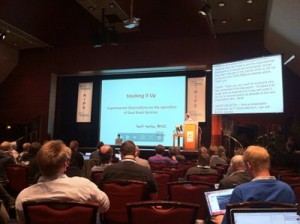 Randy Bush's presentation on BGP Security led to an extended discussion on RPKI reliability, the involvement of the RIRs and questions of certification expiration and revocation. Geoff Huston's presentation on measuring dual-stack performance provoked interesting discussion on tunneling, Teredo and NATs. João Damas mentioned the lightning talks that will take place in the Plenary on Wednesday morning.
Lightning Talks
In the Opening Plenary, Rob Blokzijl asked the RIPE community to give adhoc lightning talks about current hot topics. Daniel Karrenberg gave an overview of RIPEstat and encouraged people to visit the demo stand in the hallway. He added that an iPod would be awarded to the person submitting the best suggestion for new features or improvements to the RIPEstat tool. Wolfgang Nagele, RIPE NCC, and João Damas both gave an overview of DNSSEC.
Network Complexity Workshop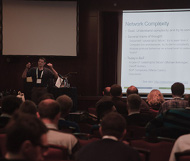 A Network Complexity Workshop, hosted by Michael Behringer, took place at the end of the day on Monday. The event was well attended and enabled attendees to discuss failure and trying to how to better categorise and control complexity.
Tuesday: IPv6 Day
The Grand Ballroom filled up quickly on Tuesday morning for the first session of the IPv6-themed Plenary day. Gert Döering opened the session with an extensive look at the IPv6 prefixes announced to the routing table and a discussion on BGP filtering issues.
Jan Žorž from Slovenia's go6 gave an insightful presentation on IPv6 Mobility in Emergency Teams before being joined by Address Policy Working Group co-Chair Sander Steffann to give an update on ripe-501, "Requirements for IPv6 in ICT Equipment". There was a lot of input and lively debate from the audience on what changes should and shouldn't be implemented in the document. Suggestions on changes to this document will be sent to the ipv6-wg mailing list for further discussion.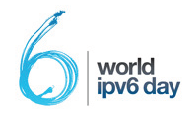 Plenary 2
The second Plenary session started with Marco Hogewoning, RIPE NCC, giving a comprehensive overview of transition technologies. Marco discussed various methods of transitioning, which prompted a lot of discussion. Andrei Robachevsky, ISOC, presented "Getting Over the Hump: Strategies for IPv4/IPv6 Coexistence and Olaf Bonness, Deutsche Telekom, gave a talk on Dynamic IPv4 Address Release. There was a last-minute presentation by Lorenzo Colitti, Google, who gave some feedback on discussions earlier in the session. He talked about large-scale NAT and how and why Google is participating in the upcoming World IPv6 Day.
Plenary 3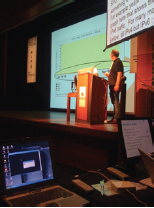 The first session after lunch continued the IPv6 theme, with a focus on some real-world applications and case studies, beginning with Ragnar Anfinsen's presentation on Altibox's deployment of IPv6 on their network in Norway. Ondřej Surý of NIC.CZ showcased the organisation's work on IPv6 geolocation, and the session concluded with Arien Vijn's discussion of IPv6 Issues on the AMS-IX Peering LAN.
Plenary 4
Tuesday ended with the final session of the IPv6-themed day. James Blessing, Limelight Networks, gave a presentation on renumbering IPV6 – a real-world experience. Jordi Palet presented a case study on deploying IPv6 without huge costs and discussed the development plan for the deployment of IPv6 in Spain.
Barry O'Donovan, INEX, gave a presentation on IPv6 pending badge initiative. He discussed IPv6 awareness in Ireland and testing to see if Irish websites are IPv6 ready. Mirjam Kühne gave an overview the RIPE NCC's activities during World IPv6 Day.
Take the IPv6 CPE Survey
In the Tuesday afternoon Plenary session, Mirjam Kühne, RIPE NCC, gave a presentation on the recently launched IPv6 Customer Premise Equipment (CPE) Survey.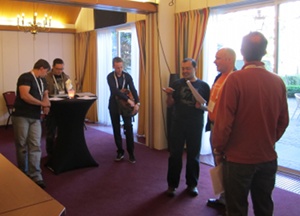 Fingerprinted at Tuesday Night's Key-signing Party
Sixteen people turned up for the key signing party last night, including three newcomers. A total of 19 fingerprints were verified. It was a great opportunity for people to meet each other and enabled the party goers to exchange experiences.
Wednesday
From RIR Updates to IPv6 Whitelisting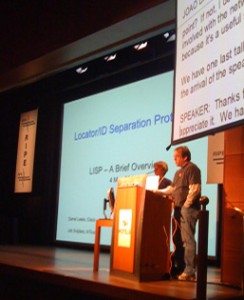 Wednesday morning started with the updates from the Regional Internet Registries (RIRs). The reports included recent news on IPv6 allocations and assignments assignments around the world, IPv6 policy development and returned IPv4 address space. There were also four lightning talks covering AAAA and IPv6 whitelisting, LISP, an Internet ethics survey and an open source implementation of the IEEE 802.1ag Ethernet OAM Protocol.
DNS WG Session I – BIND 10 Live Demo, .uk DNSSEC and more
Wolfgang Nagele, RIPE NCC, started the session with a report on the RIPE NCC's DNS activities. Jim Reid, DNS Working Group co-Chair, asked if a process to better report validation errors to signers could be investigated. Wolfgang agreed that this would be a good idea and said the RIPE NCC could work together with the DNS Working Group and the RIPE community to improve the situation.
Peter Koch, DNS Working Group co-Chair, presented a short IETF report and Jakob Schylter, Kirei AB, gave a talk on OpenDNSSEC.
Shane Kerr, ISC, then presented the new BIND 10 in a live demo. The last two presentations were from Brett Carr, Nominet, about .uk DNSSEC deployment. Ondrej Sury, CZ.NIC, ended the session with a presentation on DNS Anomaly Detection.
First EIX WG Session Packed, Attendees Sing "Happy Birthday" to EURO-IX
EIX Working Group co-Chair Andy Davidson proposed that a /16 of the RIPE NCC's final /8 IPv4 address space be reserved for IXPs and many attendees supported the idea. Serge Radovic from EURO-IX led attendees in song to celebrate EURO-IX's tenth birthday, though sadly there was no cake.
Routing Working Group Session – RPKI and BGPsec
The IPv6 Routing recommendations document is moving forward and there were no objections to the current text.
The attendees present urged the RIPE NCC to get the up/down part of the RPKI infrastructure completed. Alex Band, RIPE NCC Product Manager, expects that this will be completed very soon.
Randy Bush, IIJ, presented on the gory details of BGPsec. He also asked for an update to route-flap damping recommendations.
Cooperation Working Group – Neutrality and Law Enforcement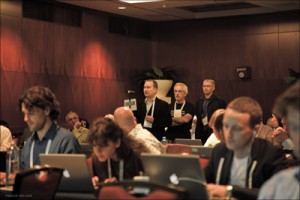 The Cooperation Working Group met after lunch, and kicked off with an extended discussion of Internet intermediaries and the competing interests of provider neutrality, law enforcement and business demands. The Group also heard updates on several relevant discussions taking place in the European Union, the UN CSTD Working Group on IGF improvement and the ICANN Government Advisory Committee.
RIPE NCC Services Working Group
The RIPE NCC Services Working Group included presentations from the RIPE NCC Senior Management team covering new services, such as RIPE Atlas and RIPEstat, as well as the upcoming RIPE NCC Member and Stakeholder survey, which will be open from 6 May – 10 June 2011.
Daniel Karrenberg, RIPE NCC, noted that RIPE Atlas now has around 350 working probes (see atlas.ripe.net) and that the beta version of RIPEstat (stat.ripe.net) is now available. Andrew de la Haye, RIPE NCC, noted that the RIPE NCC will provide a platform for members who wish to transfer address space. He also discussed membership geolocation services.
There was discussion on the RIPE NCC's certification system and the roadmap presented by Alex Band, RIPE NCC, in his certification update and Athina Fragkouli's, RIPE NCC, Update on RIPE NCC Governance documents and the transfer document. There was also a presentation by Keith Mitchell about the RIPE NCC Arbiters.
Thursday
Address Policy Working Group Sessions
Emilio Madaio, RIPE NCC, gave an overview of proposals under discussion and the RIPE NCC Policy Development Update. An overview of a new and efficient way of registering IPv6 assignments in the RIPE Database was presented by Marco Hogewoning.
Andy Davidson presented the idea of a new policy proposal to give IPv4 PI space to IXPs when the last /8 policy comes into action. The idea, which was first presented in Wednesday's EIX session, was well received by the attendees in the room. The RIPE NCC also presented an overview of how some current policies are implemented. This led to the initiative to start the Policy Development Process (PDP) for a clarification in the final last /8 policy.
There was discussion on how the IPv6 policies and the difference between PI and PA space can be reworked to better fit the needs of all IPv6 users. The attendees agreed that a formal policy proposal, authored by Sander Steffann, should be submitted.
Erik Bais presented his proposal on the removal of multihomed requirement for IPv6 PI. There was no strong majority for or against it, so more discussion in the mailing list was recommended. Finally, Dave Wilson brought up non-obvious problems with IPv4 transfers and collected feedback. His intention to produce a guideline text was welcomed and further discussion and comments will be transferred to the mailing list.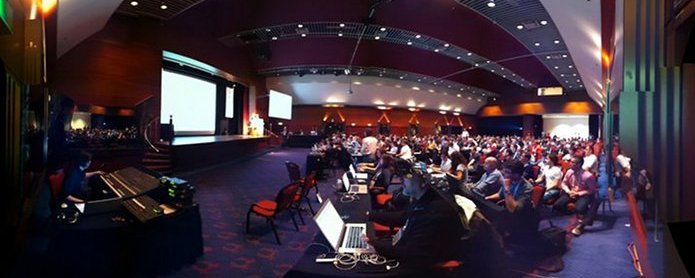 DNS
The session started with an interesting presentation from Wouter Wijngaards, NLnet Labs, about NSD4, on the planned next version of the NSD name server. There were a few comments afterwards pointing out the advantages of NSD compared to other name servers. Sander Degen,TNO, presented on DNSSEC client behaviour and discussed various timeouts caused by the behaviour of clients on different operating systems.
Jakob Schlyter, Kirei AB, introduced a Hardware Security Module (HSM) Survey with information regarding equipment available on the market, and the session ended with an appropriately-named talk from Wilfried Woeber, Uni Wien/ACOnet, The "Dancing F-Root" Story, which prompted several comments.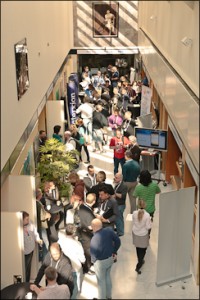 New Co-Chair Announced at Anti-Abuse
Tobias Knechtwas warmly welcomed as the new co-chair of the Anti-Abuse Working Group, working group. Darren Anstee, Arbor Networks, gave an informative presentation about trends in DDoS attacks throughout 2010 that drew much interest from attendees. Ingvar Mattson, Google, also gave a presentation on blackhole administration tools, and Wout de Natris, OPTA, gave an update on the progress made by the Cyber Crime Working Party (CCWP).
Lame Zone Talk at ENUM
The ENUM session some discussion about removing lame zones from the DNS. It's unclear if the ENUM WG or the RIPE NCC have the authority to do this as the delegations are approved by the ITU. Discussion on this will continue on the ENUM mailing list. There was also an agreement to host a panel discussion at the RIPE 63 Meeting in Vienna. There were several short updates and an interesting presentation by Peter Szegedi, TERENA, on NRENUM.
Database
The RIPE NCC shared the latest RIPE Database developments. Geolocation prompted a thorough discussion and further discussion will take place on the mailing list. Shane Kerr, ISC, proxied a presentation about adding a Transport Layer Security (TLS) Channel to the RIPE Database. The idea was supported and an action was placed on the RIPE NCC to investigate. There was a long discussion on password cracking in the RIPE Database and attendees requested that the RIPE NCC look into solutions. Another action to implement -a to -b functionality with regard to reverse DNS delegations was requested. The session ended with another discussion on whether information from sponsoring LIRs should be collected for PI address space.
MAT
The MAT WG session was packed for one of the final sessions of the day. There were several presentations, including updates from the RIPE NCC on RIPE Atlas, Measuring World IPv6 Day and RIPEstat – The Information Toolbox. There were also presentations on the Arbor ATLAS initiative by Darren Anstee, Arbor Networks, and Home Network Monitoring by Renata Teixeira. Job Snijders presentation on NLNOG RING prompted a lot of discussion. As the WG session finished, the Measurements BoF began.
Friday
Address Policy WG Session 3
Friday morning's session started with an update on the Cosmetic Surgery Project by Emilio Madaio, RIPE NCC. The AP WG co-Chairs then informed the community about the status of two proposals active in the PDP:
New proposal 2011-01, "Global Policy for post exhaustion IPv4 allocation mechanisms by the IANA", was also presented to the audience and the community was strongly encouraged to provide feedback on the mailing list. Rudiger Volk made a presentation to clarify some points about RPKI implications and how the implementation discussion historically evolved in the RIPE community.
In order to respond to some requests, an overview was given about the legal analysis performed by external lawyers consulted by the RIPE NCC. This started the discussion about the initial Certification Policy. Details were published on the mailing list together with information about where the same aspects are covered on other discussion lists.
Jan Zorz and Mark Townsley gave the session's last presentation of the day on IPv6 allocations and 6rd. They presented some alternatives to facilitate IPv6 on 6rd. The discussion was moved to the mailing list.
EIX Session 2
For the second EIX session, several IXPs gave brief updates on their  latest developments. Netnod, Arizona IX, DE-CIX, ECIX, France-IX,  InterLAN, and LINX presented. Aleksi Suhonen, TREX, then updated the  group on TREX's research and development projects. The session concluded  with one-minute lightening talks from SIX, Equinix, and Telx. Andy  Davidson, EIX Working Group co-Chair, encouraged attendees to  participate in the EIX Working Group mailing list.
IPv6 Round-Up
The final session of RIPE 62 began with a packed IPv6 Round-Up, including some extended discussion of plans for World IPv6 Day and a panel discussion that opened up a wide-ranging discussion on the IPv6 transition technologies and issues that surround them.
Closing Plenary
João Damas introduced the newly formed RIPE Meeting Programme Committee, which will work to improve the RIPE Meeting agenda. The Programme Committee can be contacted at: pc [at] ripe [dot] net.
Erik Romijn, RIPE NCC, gave an informative and entertaining report on  the RIPE 62 technical set-up. He noted that 17.3% of uplink traffic at  RIPE 62 was over IPv6.
The RIPE NCC's Communications Manager Nick Hyrka announced that the RIPE NCC's Membership and Stakeholder Survey 2011 was now open. The survey enables members and other stakeholders to give valuable input into the RIPE NCC's services and activities. All members are encouraged to complete the survey and will receive an email about this shortly.
Rob Blokzijl, RIPE Chair, announced that, with 464 attendees, RIPE 62 is the largest RIPE Meeting to date. He thanked everyone for their contributions and hoped to see everyone again at RIPE 63 in Vienna, 31 October-4 November, 2011.