Daily Meeting Report
from Monday 2 May 2011
… Tuesday's weather 15°c and sunny … Post your photos of RIPE 62 on the Facebook Event page …
RIPE 62 Gets Underway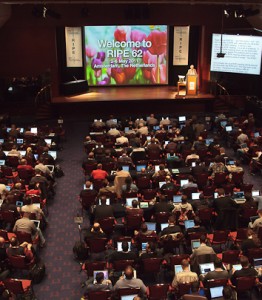 The first Plenary session of the day opened with a report from the RIPE Meeting Task Force. Andy
Davidson, representing the task force, introduced the RIPE Programme Committee proposal that would ensure that Plenary, tutorial and BoF content is in tune with attendees' needs by creating a committee with representatives from the RIPE community, the working group chairs, the Middle East Network Operators Group (MENOG), the Eurasia Network Operators' Group (ENOG) and co-opted members. There was a lot of support for the idea and some lively discussion on it.
There'll be a short update on this in the Closing Plenary on Friday.
RIPE NCC Membership and Stakeholder Survey 2011
Paul Rendek, RIPE NCC, and Desiree Miloshevic, Oxford Internet Institute, gave an overview of the RIPE NCC Membership and Stakeholder Survey 2011 and encouraged all stakeholders to participate. The survey will be launched on Friday, 6 May and will be available until 10 June. There are five iPads to be won by those who complete the survey. Look out for the url to the survey in your inbox!
Plenary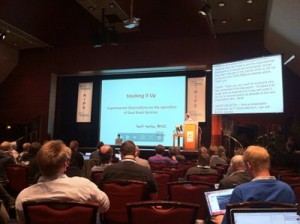 Randy Bush's presentation on BGP Security led to an extended discussion on RPKI reliability, the involvement of the RIRs and questions of certification expiration and revocation. Geoff Huston's presentation on measuring dual-stack performance provoked interesting discussion on tunneling, Teredo and NATs. Joao Damas mentioned the lightening talks that will take place in the Plenary on Wednesday morning.
Lighting Talks
In the Opening Plenary, Rob Blokzijl asked the Community to give adhoc lightning talks about current hot topics. Daniel Karrenberg gave an overview of RIPEstat and encouraged people to visit the demo stand in the hallway. He added that an iPod would be awarded to the person submitting
the best suggestion for new features or improvements to the RIPEstat tool. You can submit your ideas to mat-wg [at] ripe [dot] net or to the RIPEstat team at the demo stand. Wolfgang Nagele, RIPE NCC, and Joao Damas both gave an overview of DNSSEC.
Network Complexity Workshop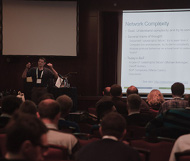 A Network Complexity Workshop, hosted by Michael Behringer, took place at the end of the day on Monday. The event was well-attended and enabled attendees to discuss failure and trying to how to better categorise and control complexity.
328

attendees checked in so far
---

use #RIPE62
---
RIPE NCC Demos
In the hallway, all week
RIPEstat: The Information Services department will be demonstrating RIPEstat and their suite of tools.
RIPE Atlas: The Science Group will demonstrate RIPE Atlas, the next generation active measurements network.
RIPE Labs: Get an overview of the latest projects and articles, and find out how you can participate.
Business Applications: The Business Applications Department will demonstrate the new LIR Portal, including how to certify your resources, the LIR Locator and more!
---
The RIPE NCC Services Centre
Volmer I Room
Monday: 10:00-18:00
Tuesday: 09:00-18:00
Wednesday: 09:00-18:00
Thursday: 09:00-18:00
Friday: 09:00-13:00
Drop by to speak with a RIPE NCC IP Resources Analyst or Customer Services Representative